May we introduce you to Becky Walford who has worked with us on both offshore cruising and smaller keelboat racing and has spent her whole career working in the maritime industry – this one is going to be interesting.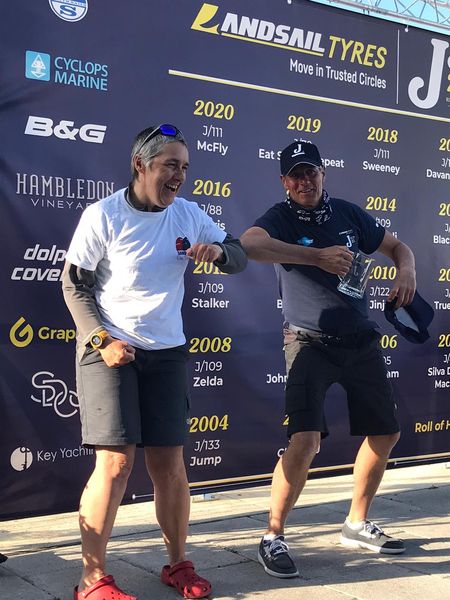 Our first introduction was when you were working as C2 Yacht Skipper for the Joint Services Adventurous Sail Training Centre (JSASTC) in Gosport. What were you most impressed with when seeing our sails ranging from Victoria 34's to Challenge 72 Ocean cruisers over your 12 year tenure?
Becky: I was able to sit and discuss what was needed, then the attention to detail with excellent quality of fittings, such as batten pockets. The ability to listen to feedback and make the sails last even longer such as re-arranging panel layouts and removing unnecessary additions and make the product last or as some would say 'squaddy proof!'
You have sailed thousands of miles around the world on Challenge 67's and 72's with our sails. What do you get from a Sanders sail on these large voyages that give you confidence to trust us with such a responsibilty?
Becky: The Sanders team are sailors rather than salesman and this shows through. Trust was easy from years of experience in the loft, listening to feedback and making the sails work for a 'hire car crew's' mentality. No car faster than a hire car and it's not mine to fix is often the feature of vessels which are used commercially. When a JSASTC challenge boat was sailing it could be up to 14 months away from base, some times on a circumnavigation or other times in the tropics and then to the Arctic. During this there was minimal down time to repair as the vessel is on a tight schedule so it was important that the sails were going to work for the whole Expedition. The Sanders team deliver from the beginning to end on long term reliability and performance which is brought in at the design stage. I recall sitting on a loft floor in Doyle's Auckland and they were very impressed with the quality and how the sail had traveled half way round the world. I have seen Sanders Sails all over the world on all sorts of boats which says a huge amount.
We have used Vectron 100 and Vectron 120 with the Yankee's and Mainsail's on these boats. What are your thoughts on the quality, durability and handling of this sail cloth?
Becky: This is a great cloth; the Vectran weave makes the sail and cope with everything that is thrown as it from being over winched, repeated flogging or waves crashing to windward. Especially the sun in warm climates and and the long day light hours when at high latitude . During my time and I think still to this day a Sanders Sail was never 'luffed to leach' whether it was a main or a head sail. I think that they two ply leach on main makes a huge difference. Stops the worry when sailing reefed off the sail not being able to cope with the extra load on the leech. The vectron staysails are great too. Once they have a few miles under their belt they are easy to handle and I could not recommend this more for long distance sailing or those that want a sail to last. I think that some of the mainsails had 50000 miles on them before they got replaced.
You have since purchased a J92s and are racing in the Solent and Southampton Water with your full suit of Sanders. You are using GPL laminate for you racing sails and 320 AP MTO for your cruising sails. How have you found these two materials for the purpose in hand?
Becky: The GPL laminate is great, so light, so stable and a dream to trim, reacting to the sensitivity of the wide wind range it has to work too. The UV protection is great and showing no signs of de-laminating after 4 seasons. As well as also looking good. These have certainly delivered. I also wanted to buy sails that are made in the UK from start to finish rather than being flown half way round the world to be finished somewhere. Longevity for me and also for the planet are part of my considerations.
When I came to buying some cruising sails, knowing what we had put on the JSASTC Victoria's and how well these sails had lasted, it was a no brainer to order what had already delivered. These boats are due to work 35 weeks a year with a different crew everywhere. As Sanders had measured the whole boat from the outset, the sails came out of the bag a fitted straight away. The dacron sails are great, again stable and like being trimmed and I don't have to worry about letting them flap when I am sailing short handed! The over the top leach line might seem a bit over kill on a 30ft boat but this is the details that was put in at the design stage and other features which worked such as spectacles on the reef points and sensible sliders so the sail can be handled easily when I am sailing solo.
If you were to write a review about Sanders Sails in a couple of sentences, how would you describe us in an advert to other potential clients?
Becky: Great Team! Great service! Excellent choice of cloth and huge amount of experience to drawn upon – made in England, but seen all over the world!